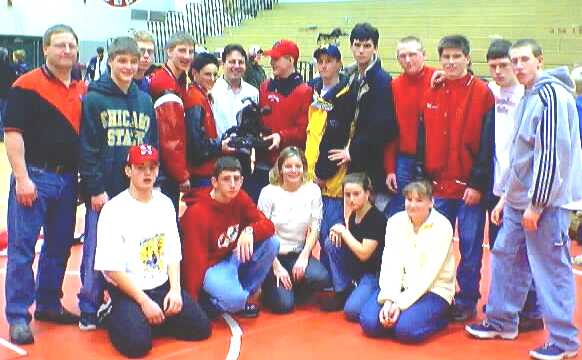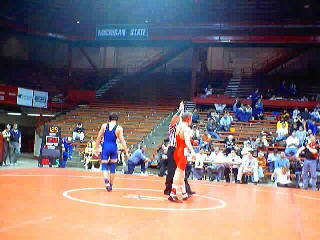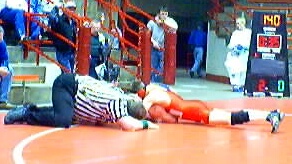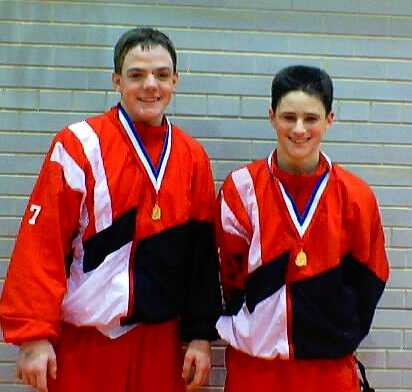 Weyauwega-Fremont Wrestling

2000-2001 Season Highlights

December 29, 2000.  While everyone else loaded up on Christmas cookies and candy, the wrestlers had to watch their weight because after Christmas they traveled to Madison.  Weyauwega/Fremont placed 4th out of 16 teams at the tough Badger State Tournament in Madison.  (The three teams that scored higher than Weyauwega were all ranked teams.) 

Freshman, 125# Todd Bartol Tech Fall at Badger State Tournament.  The score in the background says 20 - 5.


January 13, 2001.  Weyauwega/Fremont earned 2nd Place at the Sheboygan South Tournament.  At the conclusion of the Tournament, the score was tied and after a  series of tie breakers, Weyauwega went home with the 3rd place trophy.  However, a Sunday recount of the team scores showed that Weyauwega actually won 2nd by two points!  Jerimiah Johnson (103#) and Brian Loehrke (135#) above, each won 1st Place.  Erik Mannel (140#) earned 2nd Place.  Matt Mannel (112#) and Jason Miller (160#) took 5th Place.  Erick Rand (119#) and Jordan Baitinger (152#) were 6th.   Jerimiah Johnson won his first varsity tournament with three pins.

January 16, 2001.  Weyauwega/Fremont defeated Berlin (32-31) in front of a large crowd on Parent's Night.  This was the final home dual meet for Weyauwega.  Berlin was undefeated in the ECC and Weyauwega/Fremont was undefeated in the CWC.  Weyauwega only won 6 of 13 matches, but 4 were pins for 6 team points each and 2 were major decisions for 4 team points each.  (4 x 6 plus 2 x 4 equals 32)  Just enough to win.  The best match of the night for the W-F fans was Tim Brewer at 171#.  Tim wrestled up two weight classes to fend off one of Berlin's studs.  Because Berlin has studs at the top three weights, if Tim gets pinned, Berlin would probably win the meet, if Tim loses by tech fall, Berlin andW-F tie, if Tim loses by less than 15 points, Weyauwega wins.  Tim wrestled his best against a much heavier wrestler intent on pinning him.  Tim lost by a score of 3 to 16 which allowed the team to win.  Weyauwega defeats Berlin!  Berlin was the ECC Conference Champ the last two years.  Weyauwega was the CWC Champ last year. (Each team was Conference Champ again this year and Berlin was 1st in its Regional.)

January 20, 2001.  Weyauwega/Fremont won all four of its dual meets to win the CWC Multi-Dual at Amherst.  In the round-robin format, WF defeated Amherst (72-6), Manawa (45-21) Roshot (54-24), and Stevens Point Pacelli (70-3).  Five WF wrestlers ended the day with perfect 4-0 records, 103# Jerimiah Johnson, 112# Matt Mannel, 135# Brian Loehrke, 140# Erik Mannel, and 189# Mike Stuebs.  For WF, the dominant performance included 22 wins by pin, 16 wins by Forfeit, 1 win by major decision, and 3 wins by decision, versus only 10 losses.

January 23, 2001.  Weyauwega/Fremont won 10 of 12 matches to defeat Wautoma (44 - 9). (Erik Mannel moved up a weight class to defeat Shane Miller who placed at State last year and earned a trip to State this year. )

January 25, 2001.  Weyauwega/Fremont defeated Wild Rose (66-10) to complete WF's 2000-2001 dual meet schedule.  The victory gave WF a perfect CWC Conference record of nine wins and zero losses.

February 3, 2001.  Weyauwega/Fremont won the CWC Conference Tournament in Rosholt.  All 13 wrestlers placed in the tournament.  Winning the CWC Tournament combined with a perfect 9 wins versus 0 losses in CWC dual meets gives Weyauwega/Fremont the title of CWC CONFERENCE CHAMPION FOR 2000-2001.

January 26, 2001.  Erik Mannel had an emergency appendectomy.  Complications from the surgery caused Erik to remain in the hospital for almost a week and will prevent him from wrestling for the rest of the season.  Erik is consistantly one of the best wrestlers on the team with a current record of 23 wins and only 4 losses.   Erik is currently Number 18 in All-Time Career Wins for W-F with a record of 67 - 19.  Erik will be back next year to continue his quest for a State title.

February 10, 2001.  Weyauwega hosted a WIAA Division 2 Regional Tournament.  Brian Loehrke (1st at 135#) and Cole Bauer (2nd at 140#) earned the right to advance to the WIAA Sectional Tournament.  Four Weyauwega wrestlers placed 3rd, four wrestlers placed 4th, one placed 5th, and one placed 6th.  The Weyauwega team was third.  Seymour won the Regional by a slim margin over Freedom.  Both teams were ranked in the State, with Freedom ranked number 1.

November 30, 2000.  The 2000-2001 Weyauwega-Fremont Wrestling season officially started.  The wrestlers had practiced and wrestled with each other for a couple weeks and finally got an opportunity to wrestle someone else.  Freshman 112# Matt Mannel and Freshman 125# Todd Bartol each wrestled their first varsity match and they both were victorious.  Matt won 11 to 1 and Todd pinned his opponent.  A good way to start their varsity career.  The coaches had all of the wrestlers well prepared.  Weyauwega defeated Bonduel 57 to 16 on a new wrestling mat.  The Akey family donated a new mat to the wrestling team in honor of Mark Akey.  The Akey family members have been long time supporters of the wrestling program at Weyauwega.  (Thank you to the Akey family.)

December 7, 2000.  Weyauwega-Fremont defeated Gillett-Suring in a non-conference dual meet by a score of 44 to 30.

December 9, 2000.  Weyauwega's Dual Team Invitational was renamed the Akey Dual Team Team Invitational.  Weyauwega suffered losses to Stratford and Oconto Falls and defeated Chilton, Appleton East, and Waupaca.  Stratford is ranked Number 1 in Division 3 by The Crossface wrestling newspaper.  Brian Loehrke defeated Shawn Kitchner, the Number 1 ranked wrestler.  Cole Bauer defeated Nate Cate of Waupaca.  (Weyauwega never loses another dual meet all year.  Stratford's Kitchner enters the State tournament with only one loss.  Waupaca's Nate Cate qualifies for State in Division 1.)

December 14, 2000.  Weyauwega vs. Wittenberg-Birnamwood.  Wittenberg had a team loaded with Seniors and expected to beat Weyauwega for 1st place in Central Wisconsin Conference.  Wittenberg felt this is would be year. However, after Cole Bauer won at 145#, the team score was Weyauwega 39 to Wittenberg 6.  Weyauwega could lose all remaining weights and still win.  Travis Buckholz pinned their 275# wrestler to make the final score Weyauwega 45 to Wittenberg 27.

December 21, 2000.  Princeton decided not to wrestle against Weyauwega, so Weyauwega scheduled a last minute match against an unknown team.  Weyauwega took a coach bus load of team members, parents, and fans to Cochrane/Fountain City which is straight West of here along the Mississippi River.  Cochrane is doing well in their conference, but Weyauwega proved to be too powerful.  (Their coach said they probably won't invite us back.)  Weyauwega 67, Cochrane 3.  (Weyauwega's only loss was to Zeke Secrist who at the end of the season was 1st at their Regionals, 1st at Sectionals, and earned a trip to State.)

January 4, 2001.  Weyauwega defeats Shiocton 66 to 6.  Weyauwega lost only one match.

January 11, 2001.  Weyauwega defeats Plainfield Tri-County 66 to 3. (At the end of the season, Plainfield won the Manawa Regional in Division 3.  Weyauwega's only loss was to Jesse Mata who won 1st at their Regionals and 2nd at Sectionals to earn a trip to State.)

February 17, 2001.  Brian Loehrke and Cole Bauer each placed 4th at Division II Sectionals in Ripon.  Both wrestlers lost their first match of the day and had to go up the wrestlebacks.  Brian pinned Todd Van Groll of Denmark and lost his final match to Beau Herbst of Winneconne (34 - 3 record) by a close score of 8 to 9.  Cole decisioned Brad Schneider of New Holstein (who came into this Sectional undefeated) by a score of 6 - 4 and lost his final match to Tedd Van Camp (30 - 7 record) by an even closer score of 6 - 8 in overtime.  A tough day for Weyauwega wrestlers.

To find the detailed results of each match of each wrestling meet and tournament, click here:

Erik Mannel with one of his four pins for the day at Badger State.

End of Season.  This year's Seniors -- Tim Brewer, Travis Buckholz, Eric Buhrow, Jason Miller, and Mike Stuebs will be missed next year.  The Seniors contributed 74 wins for the team.  They wrestled the upper five weight classes this year.  The Seniors were leaders on the mat, in the weight room, and in practices.  Thanks and Good Luck in the future!

Next Season.  The 2001-2002 wrestling season should be exciting.  Weyauwega-Fremont should be very good from about 112# through about 171#.  Hopefully, some JV's or Freshmen will step up to varsity to fill the remaining holes.  I predict a third consecutive CWC Championship for Weyauwega-Fremont wrestlers.  I also predict eight Sectional qualifiers and up to six State qualifiers.